Palm (Obsolete) Hand Held User References:-
Peter Cairns / peter.cairns1@btinternet.com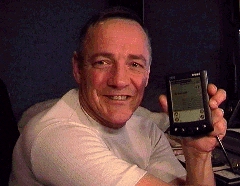 I have been in the milk industry since 1989, on leaving the armed forces, during that period I have seen numerous changes in the industry from take-over to rationalization of milk runs. I finished as a supervisor with Scottish Pride Dairies and became self-employed some 5 years ago. I have two transit vans serving just under 1,000 customers mostly doorstep some small retail outlets and some catering establishments.
In the initial years we used the old rounds book system, very time consuming. I remember the hours spent writing new books for the forth coming weeks and as the month end approached the monthly accounts. To weigh it all up the job was pretty well a full seven days a week, of either out delivering or being weighed down with paperwork. I was fortunate enough in my years to experience one or two types of computerized milk rounds, none stable enough to wet my appetite.
It was not until I became involved with Wisemans Dairies that I was introduced to MR8 running in Dos (Milk Round Software) I was taught how to use the system and it was with great delight I found it did work. This was the start of my association with Steve Hall whom developed the software. I found the system saved me hours. It printed my rounds books weeekly or daily. It produced and printed my monthly accounts and also was able to back track payments with ease it also allowed me to print an end of week summary telling me what each vehicle sold and monies collected.
As time went on Steve produced a windows version of mr8 which again proved to be even more efficient and faster to use. But the best was yet to come - a program for Hand Held Devices, at the onset of this program I considered the Hand Helds very costly but I was very interested , however we came across two Palm 111Xe's and from there down loaded programs and took the 8 week test period, within the first two weeks we where hooked. Again, time was saved in our favour by a press of a button on return our days work was downloaded to our PC. But even more useful was the fact everything was at your finger tips you could access total monies collected daily also enter and edit deliveries or even standing orders, also set up different deliveries for up to three weeks highly impressive!
From my own point of view the money invested to set this up was well invested. It takes me just under two hours on Saturday morning to process weekly invoices, envelope them, roll over to next week, and download on to my hand held. Job done ready for Monday. If you have taken the time to read this article and have not yet considered a computer or hand helds, then my advice to you is get on your phone and speak to Steve Hall - Milk Round Software, because in my opinion it was money well spent.
Charlie Appleton / TFLYM@aol.com
My wife and I run a rural dairy using three milk floats, covering Mid Cornwall from coast to coast. We produce about 200, four weekly bills every week, which keeps the cash flow healthy. This used to take about eight hours a week and then all the other paper work used to take up the rest of the weekend, but now since installing this software and hand held terminals all the paperwork is completed within an hour.
We had tried a different system before and found that the daily key board time was too great an d that the bills were not clear enough for our customers. Six months ago a local dairyman was telling me about the wonders of MRS and mentioned that hand held terminals were available so I took a look. After a quick phone call to Steve Hall I downloaded t he software, studied it and rang straight back and ordered one HH trial shortly followed by two more.
My daughter fed all the customer information in a day. The biggest problem we had was to find HH's, but eventually we found one in Plymouth and two in Truro with a total cost of £230 for all three. They are Palm 111e's.
The system allows all information to be entered on the round with a daily download time of seconds. Book editing and checking is now done daily and in seconds. We have a daily stock sheet for all or part rounds so ordering is now very simple and accurate.
We use a credit charge system on our bills which was not on the system but one phone call and two weeks later it arrived at no extra charge.
Great system, Great timesaver, Great service, Thanks Steve!
Malcolm Scott Guernsey, Channel Islands Tel. 01481 253549 m.scott@gtonline.net
I have had installed the Milk Round Software since 1999. My business is mainly commercial, delivering to restaurants, offices and hotels. Before MRS i t took almost two weeks to prepare my monthly accounts by spreadsheet now only takes a couple of hours. I found Steve's article in the Milk Industry magazine and decided to contact him. I have never looked back ! Local computer firms warned me against using someone from the UK as living in Guernsey I would get no support if problems should occur. This could not be further from the truth, as Steve has always been available to rectify what few problems I have had.
I then decided I needed a handheld of some kind. I mentioned this to Steve and he said that he was about to write a program for a Palm handheld. One year later, I could not be without it!
I also needed a printer in the van to enable me to print delivery notes. I simply take the order from the customer, input the details to the handheld point it at the printer in the van, press the button, and this prints the delivery note via infra-red.
This means doing away with expensive account books clogging up the van. Before the handheld, I had to spend at least seven hours a week inputting data from the account books onto the computer. Now when I arrive home, I place the handheld onto its cradle and simply press a button. The data is automatically trans ferred onto my PC.
I am constantly asked by customers what they currently pay for certain products, different customers pay different prices, some have discounts, some not, others might want to know how much they owe on their account. In the dark ages, be fore the handheld, I had to go home and turn on the computer, retrieve the information and then telephone them. Now I can give them this information straight away.
Due to the handheld taking the pressure away I am now able to develop my business further, and am currently selling a vast range of products. I started out on DOS, now I am using Windows in conjunction with a handheld computer and printer! What ingenious stroke will he pull next?
Steve is constantly striving to update the functions on the handheld and the system as a whole. Three cheers for Steve!
Andy Challoner (& Son) andy@amsdairy.com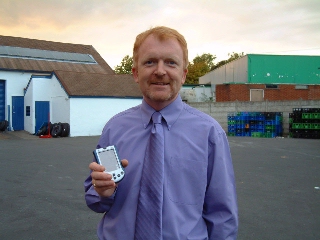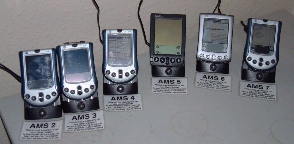 AMS is a medium sized BMB business with 5 doorstep and 1 semi retail rounds. We operate in the area of Cheshire and have done so since 1985.
We are no strangers to computerisation, having had and trialled many systems in the past. Prior to Milk Round Software, we were continuously plagued with ongoing program and printer compatibility problems. We chose Milk Round Software for its ability to operate under the windows operating system [instead of Dos] thus ensuring printer compatibility i.e. laser, inkjet or Dot matrix [wow a choice at long last] and for the promise of a low cost handheld terminal solution.
We encountered no problems transgressing from our old system to the new one and any questions that we did have were answered promptly and professionally by Steve Hall. We have used Milk Round Software for over 2 years and now have all our rounds on hand held terminals.
Initially we started with one hand held but after a taste of the time saving back in the office i.e. inputting alterations and payments etc it wasn't long before another 5 terminals followed, the time saving at the office level is worth the move alone. The hand helds store all the customers standing orders, weekly deliveries, holiday stops and starts, customer account information and stock lists etc and are used in conjunction with the desktop system. Handy facilities like the daily loading list and totals collected so far and other features coupled with a complete daily download time [if wished] to the desktop PC of around 30 seconds, it's not hard to see the advantages. The roundmans reactions have been superb; indeed none of my staff would go back to a manual rounds book [whether written or printed].
AMS would like to point out that we have no financial connection with Milk Round Software and the opinions above represent our true views and findings, however if Steve Hall would like to cross our "palms" [no pun intended] with silver we would not be adverse to gratefully accepting such an offer.
Seriously there is too much to list on what Milk Round Software can do, my advice TRY IT!
Ian Pardy, Redditch Worcs Tel. 01527 541378 ianpardy@aol.com
We have 9 doorstep and 2 semi-retail rounds. We first computerized the round in 1994 using Milk Round Software basically because of too much paper work. We found MRS very easy to use and have found the telephone support excellent occasionally called even on Sunday nights!!
We transferred to hand held operation during the last 6 months mainly to cut down on hours that the staff would spend in my office doing all their edits. I have 8 Palm IIIe's which we found easy to use and learn. It's just so straightforward! Now the roundsmen do all their edits at home, which saves me one day per week and gives me more time to play golf. Excellent!
Ian Turner and Chris Walker, Middletons Dairies, Derbyshire. Tel. 01433 620917
ian.turner27@btopenworld.com
We deliver some four hundred gallons a day three-quarters doorstep and a quarter semi-retail.
We seriously started looking at computer systems as the business rap idly started to expand and the work load of up dating sheets became unbearable. The first computerized system we went for was the most expensive - thinking the most expensive would be the best (how wrong we were). We were prompted again to the MRS milk computer system by a letter from Steve Hall. After several discussions with Steve we decided to take the plunge and try his system (what a relief). Starting up with MRS was so simple compared to our other previous experiences, no need for any home visits.
We have been using the hand held systems now for over 7 months and have had no problems what so ever. We did wonder why there was no charge for support? Simple you don't need it! We have now got 5 Palm IIIx model hand held terminals. O n Fridays there is no paper work and we "end the week" in about 7 minutes. We have found the palms very very easy to use, even the older members of our team picked them up very quickly. One of the good things about the Palm is when money or cheques are picked up they can be debited straight from customers accounts whilst still delivering and you don't have to pass them onto the office for someone else to deal with. Also, milk orders and holidays can be put in then and there, so as to save confusion with notes going astray. Make your workload easier... try it!